Biography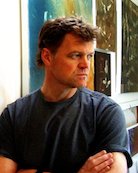 My name is Mark Halsey and I was born in Hull, East Yorkshire in 1961. I am married with 2 sons and we live in Hessle, East Yorkshire. I work from a purpose built studio in the garden.

Being a professional artist I am obviously passionate about art. However my other love is music and I enjoy composing, writing and recording my own songs.

I also practice martial arts, meditation, and Reiki, all of which have opened my mind and provided me with a wealth of inspiration for my work.

I successfully completed a foundation course in art at the Hull College in 1981. Following this, I worked in industry as a decorative designer whilst at the same time gaining recognition as a portrait painter as well as a figurative/abstract artist. Over the next few years I began to develop my own particular style and my work was increasingly shown in regional galleries throughout the north of England.

After receiving an award at the Manchester Academy of Fine Arts Open Exhibition in 1998, I was then invited to show at The Gallery, Manchester's Art House. This then became my main gallery for the next 5 years. During that time I had 3 very successful solo shows with the gallery, one of which was in the Lowry Hotel in Salford, Manchester. My work also sold prolifically in major art fairs in London and Dublin. The gallery worked closely with corporate clients both in the UK and overseas, and I undertook many commissions for wine bars, offices and hotels. An interior designer for Granada Studios in Manchester purchased my work and it has subsequently appeared on various TV dramas.

Due to the death of the proprietor and the subsequent closure of the Manchester gallery, I then began to work with numerous galleries throughout the UK. These included the Morningside Gallery in Edinburgh and the Quantum Contemporary Art based in London. Through the Quantum Contemporary gallery, my work has regularly been sold in art fairs in London, Glasgow, Amsterdam, Singagpore and New York.
Use the links below to find where my work has been exhibited: